Limited seating is available – Register Now >
OMPA Presents:
Northwest Film Finance V
Saturday October 13, 2012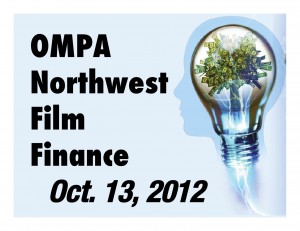 9am-5pm at Hilton Portland & Executive Tower
With support from SOFaT and the Oregon Governor's office of Film and Television  
If you are a producer, filmmaker or finance partner, this is a perfect opportunity to raise your game. Nationally recognized experts plus the brightest Oregon producers meet at the elegant Hilton Portland for a one-day conference and workshops on identifying, meeting and soliciting partners to finance Oregon productions.
If you know, or are, an indie producer who "just needs the money" to make your first films, attend these eye-opening panels on negotiating distribution, accessing public and private funding, attaching name acting talent and more.
Featured Presenters:

Michael Zoumas, Executive Producer of LAIKA's Coraline and former Miramax / Dimension SR VP of production/development, who acquires and produces titles under his independent banner, Zoom Entertainment.
Larry Weinberg noted entertainment attorney whose credits include support from the National Endowment for the Humanities.
Dustin Morrow, filmmaker, photographer, writer, media artist and assistant professor of digital cinema production and film studies at Portland State University.
Tara Johnson-Medinger, producer and consultant who has overseen over $96,000 in fundraising via crowdsourcing for The Winding Road, My Summer as a Goth, Rock & Roll Mamas, and He Inspires.
Christopher Toyne, director, producer, executive producer and moderator.
Additional guests include successful producers from Oregon's community of filmmakers. The program is scheduled to include these topics and breakout sessions:
•  Identifying, meeting and securing financial partners
•  Preparing finance packages
•  Pitching television distribution
•  Negotiating digital distribution
•  Crowdfunding from Kickstarter and Indiegogo
•  Attaching name talent
Our presenters are in the business of developing viable projects, so be prepared to present project details – and get critique on your pitch – as there will be opportunities to present yourself. If you haven't yet, start telling us about your project status now at ompa.org/tracking.
Students, OMPA members, and members of other supportive organizations get a significant discount on registration. Table sponsorships are also available at a reduced rate and we encourage you to bring and educate your whole team.
Registration includes the full day session, on-site  lunch at Alexander's on the 23th floor of the Portland Hilton, and post-session mixer and cocktail party. Seating is limited to the first 110 reserved guests.
Register at www.nwffv.eventbrite.com.
Attendance will be available in Ashland area by video conference. Use above link to register.