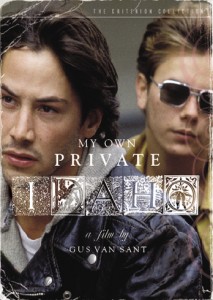 Gus Van Sant will be making the trek up to Toronto next month for the Toronto International Film Festival, where he'll be contributing an installation commemorating the twentieth anniversary of the cult classic "My Own Private Idaho." Released in 1991, "My Own Private Idaho" stars River Phoenix and Keanu Reeves as young hustlers on the streets of Portland.
The installation, entitled "Memories of Idaho" and created in conjunction with James Franco, will screen as part of the festival's Future Projections, described as, "A new film frontier outside the cinema space where moving images become art throughout the City of Toronto." The installation involves two films. The first, "My Own Private River," focuses on Van Sant's experience with River Phoenix through a reassembling of alternate takes and deleted scenes. The second, "Idaho," draws from one of the three scripts used to create the original film. The installation will also include large-format photos of the Portland hustlers who inspired Van Sant.
The Toronto International Film Festival began in 1976 and is widely recognized as one of the most high profile international film festivals. It will take place September 8-18, 2011.