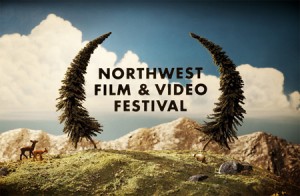 The 37th Northwest Film & Video Festival, which receives submissions from artists in Oregon, Washington, British Columbia, Alaska, Montana, and Idaho, wrapped up its 9 day run Saturday, November 13 after screening 11 features and 28 short films, 12 of which were singled out for special recognition by Gill Dennis, this year's festival judge and Master-Filmmaker-in-Residence at the American Film Institute.
Audience awards go to the following filmmakers for best feature and best shorts. Portland filmmaker Andy Blubaugh's first feature film THE ADULTS IN THE ROOM emerged with the Favorite Feature prize. Taking the award for Favorite Short and Favorite Narrative Short was Nathaniel Bennett's THE TRUE BELIEVERS. The Favorite Documentary Short was awarded to John Waller's INTO DARKNESS and Favorite Animated Short went to Andrew S. Allen for THE THOMAS BEALE CIPHER. In addition, Laurel Degutis's LANDSCAPES was awarded the Favorite Experimental Short.
37th Northwest Film & Video Festival AUDIENCE FAVORITES:
Audience Favorite Feature:
THE ADULTS IN THE ROOM—Andy Blubaugh
Audience Favorite Short:
THE TRUE BELIEVERS—Nathaniel Bennett
Audience Favorite Documentary Short:
INTO DARKNESS—John Waller
Audience Favorite Animated Short:
THE THOMAS BEALE CIPHER—Andrew S. Allen
Audience Favorite Experimental Short:
LANDSCAPES—Laurel Degutis
The Northwest Film & Video Festival is produced by the Northwest Film Center and sponsored by the Paul G. Allen Family Foundation, LAIKA, and the National Endowment for the Arts. Major Sponsors include Wieden + Kennedy, McTarnahan's Brewing Co., Oregon Cultural Trust and Festival Sponsors include Hotel deLuxe, Digital One, Mission Control, Leopold Ketel & Partners, Ace Hotel, Willamette Week, Parlor Flick, Gearhead Grip + Electric, and Koerner Camera Systems.
The Northwest Film Center is a regional media arts resource and service organization founded to encourage the study, appreciation, and utilization of the moving image arts, foster their artistic and professional excellence, and to help create a climate in which they flourish.
Northwest Film Center/Portland Art Museum
1219 SW Park Ave
Portland, OR 97205
www.nwfilm.org